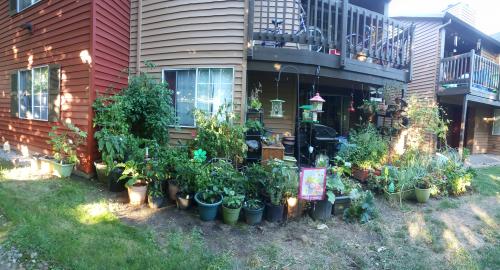 Well, recently we were told that we had to remove everything that wasn't physically on/attached to the patio - no plants out on the ground. When I pointed out that I had permission to do this and it was in the same place as always, I was told that they had never given permission, had never seen the garden, etc. Now this was the exact person who I had talked to about my garden multiple times and had approved it. They tried saying in past years they'd just seen the greenhouse. A greenhouse that I just bought and installed this year. After a little more poking, it was clear that they had visited the garden this year (since that's the only time I had a greenhouse) and had to have seen all the containers since those were already there.
After a little back and forth, I ripped up a good chunk of the garden and the rest seems to be ok for now. Didn't make me too happy to pull up all my pumpkins, most of my squash, much of my cucumbers, etc. - it was probably $100+ worth of plants. Needless to say, we'll be moving as soon as we can, as I am tired of this kind of thing.
So how can you help protect yourself?
Get it in writing
If they approve you having a garden, greenhouse, planters, etc., get it in writing. And get that again every time you sign your lease. Make sure that it states that this agreement supersedes anything in your lease, community rules, etc.
Have them visit
Set up your garden and then have them visit. Ask them if there are any issues with what you have, where it is at, etc. Then you can fix it before your plants get too established. My landlord couldn't seem to understand why it would be an issue moving a pot that is probably 20 gallons with a 7' tall tomato plant in it.
You might even want to document the visit, such as recording it. Just make sure what the laws are regarding recording other people.
Once they've ok'd it, take photos, print them, and have them sign off.
This should help protect you for at least the duration of your current lease if they try to change things midway like they did to us.